Configuring email in Outlook 2013/2016
This FAQ describes how to configure you QTelecom provided email account in Outlook 2013/2016

Click the file button in the top left corner as pictured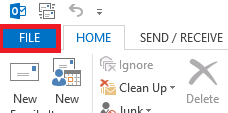 Then click the Add account button

Then select Manual setup and click next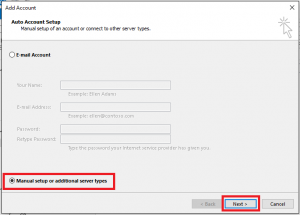 Then select POP or IMAP and click Next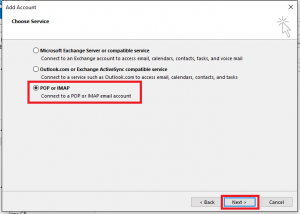 Enter the settings in the format below, remembering to put your email address and name in, and ensure that the username is the full email address

The incoming and outgoing server will always be mail.domain, in this example the domain is qtelecom.com.au, so we use mail.qtelecom.com.au for incoming and outgoing mail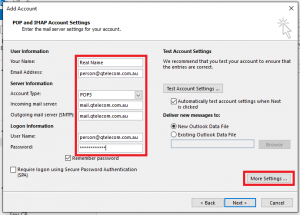 Click More settings and select the Outgoing server tab

Ensure "My outgoing server requires authentication" is ticked, and set to use the same settings as incoming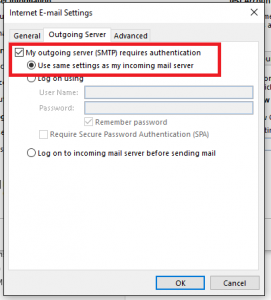 Then click the Advanced tab and change the Outgoing server (SMTP) to 26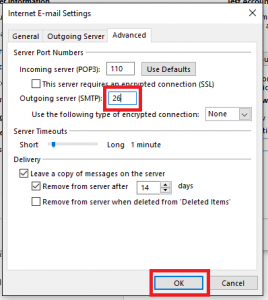 And click OK and then Next

Outlook will then test the settings and if all is well give you the following message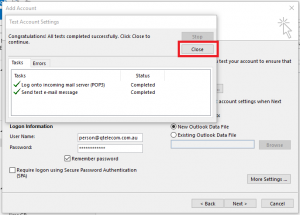 If you get errors here, check that the information required has been entered correctly

Just click close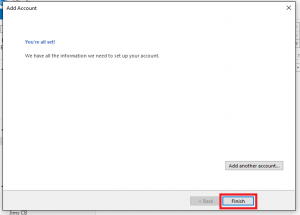 Setup has been successful, click finish, and you are done
Configuring email in Thunderbird
This FAQ describes how to configure your QTelecom email address in Thunderbird

Click the icon the looks like three bars and then click Options as below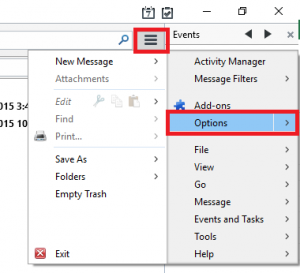 Then select Account Settings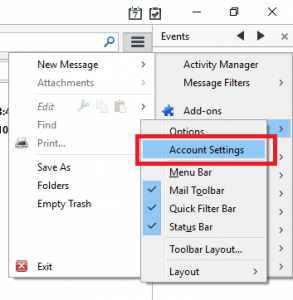 From the Account Actions drop down, select Add Mail Account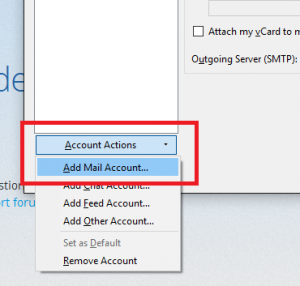 Enter your name, email address and password on the following screen, and click continue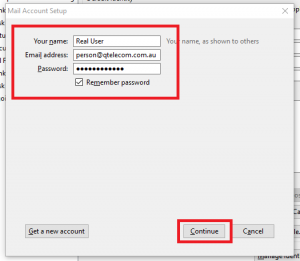 It will try automatically configure the account

Once it has completed, we need to click the Manual Config button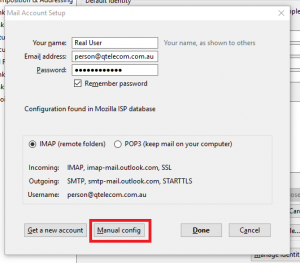 Ensure the settings look like below, mail server names are always mail.domain, in this case the domain is qtelecom.com.au so the mail server is mail.qtelecom.com.au

Ensure the Outgoing SMTP port is set to 26

Then click Re-Test, then Done

You should now see your new account in Thunderbird's account settings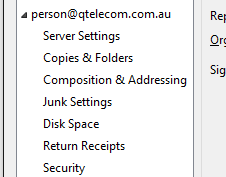 This is all there is to it
General tips for email issues
Here are some handy tips for the most common email issues you might encounter day to day, sometimes the solution can be quite easy to find, other times it can be more complex, and we are here to help should you need us. A general rule is always make a note of any error messages in full, and keep copies of bounce messages as they can be a fantastic diagnostic tool to try identify a particular issue.

If you cannot send or receive email

Check if you are connected to the internet, email requires the internet connection to be working in order to interact with the mail server.

Are you getting any error messages? Although these messages can appear daunting to look at, if you read through them they can generally give you a hint as to what the issue might be.

If you have been having password issues, after a number of incorrect tries the mail server will generally block you from connecting, you can test this is the case by trying to visit webmail.domain (eg webmail.qtelecom.com.au) in a browser, if you are being blocked for username / password issues webmail wont load for you. In this case give us a call and we'll sort out the issue with the username and password, and unblock you.

 If an email you are trying to send bounces

Looking at the bounce message usually will give an indication as to why the message could not be delivered, which could lead you to the solution. Look for terms related to the following and sometimes you'll see the answer in the message.

Mailbox full message

If the bounce says something like mailbox full, then the person you are trying to send to has too much mail stored on their mail server, and now room for your email, you can try again later, or if you know another way to get in touch with the person you are sending to you can let them know they have a problem.

Invalid address / recipient

If the message says something about an invalid address or invalid recipient, check to see if you've made a typo somewhere. If you haven't sent an email to that person before it might be a good idea to confirm the email address is actually correct.

Unknown user / mailbox

When you get a message like unknown mailbox or unknown user it can indicate that the email address no longer exists or is incorrect, it's worth check again the address you are trying to send to, and if possible contacting the person to see if their email address has changed.

Spam

If the bounce message contains references to spam or banned content, then it is likely that there is something in the message that the receiving server did not like, usually it is the receiving server that defines what is spam and what is not, and as there are so many spam management product on the market there is no single set of guidelines to what each server will not like.

It is also possible that the sending server may have been pinged for sending spam, for example someone may have had their password guessed, and then their address is used to send spam form the server. This can lead to what is known as blacklisting of servers, where the ip address of the server is listed as being known for spamming. Receiving servers can use these lists to decide whether to accept email from that server. If you come across an issue like this we recommend you get in touch with us straight away.
Configure email on Android
To begin to configure your QTelecom email address on your android phone or tablet, first look for the email icon below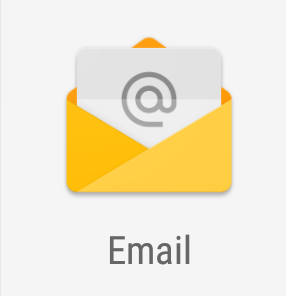 Tap it and it will bring up a screen asking for your email address, enter it then tap manual setup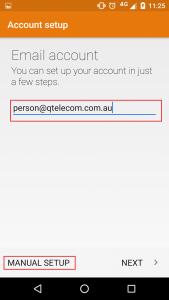 On the next screen select Personal (POP3)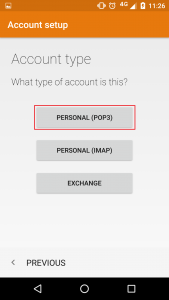 You will next be asked for your password, enter it, and tap next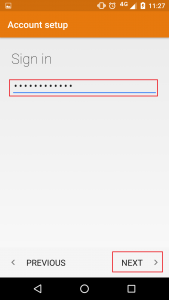 You will then be asked for a series of settings, the mail server is always mail.domain, in this case we are setting up a qtelecom.com.au address, so the server is mail.qtelecom.com.au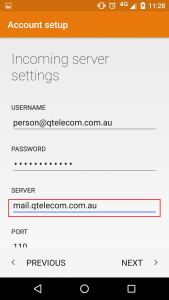 You will then need to scroll down, and set the security type to 'none', and tap next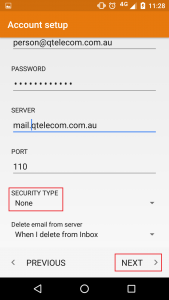 On the next screen, we need to setup our outgoing mail server, once again the mail server will be mail.domain, in the case it is mail.qtelecom.com.au.

Ensure you set the security type to None, THEN change the port number to 26, and tick Require sign in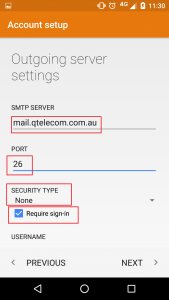 Then scroll down a little further, ensure there is a username and password there, then tap next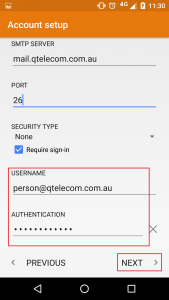 Set the sync interval to your preference, 15 minutes is usually a good balance, then tap next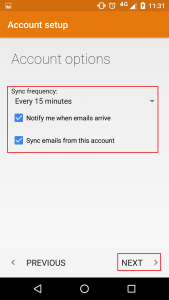 Enter the name you'd like people to see when they get an email from you and tap next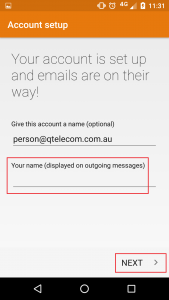 And that is it, you are setup with your email address on you Android device.
Mailbox over quota
Your QTelecom hosted mailbox comes with a certain amount of space to store emails on the server, and over time it is possible that this space could fill up, and depending on how your email account is setup, there a couple of ways to fix the issue.

POP3 versus IMAP

There are two manin ways your QTelecom hosted email address could be setup, POP3 or IMAP.

POP3

POP3 basically stores all email local on the computer, and usually will remove the mail from the server once downloaded, however it can be set to leave a copy on the server either for a period of time, or indefinitely, and this is where is is possible to run into trouble.

IMAP

IMAP basically stores everything on the server, so all your inbox, sent items, and deleted items are using up the allocated space, and if some house keeping isn't performed, you can find yourself with a full mailbox, and unable to send or receive email.

POP or IMAP?

To determine of you account is setup as POP or IMAP follow these steps:

In Outlook 2013/2016 go to File, then Account Settings, and Account Settings again, and you should bring up the Accounts window.

Look for your account, and in the type column see whether it says POP/SMTP or IMAP/SMTP, and this tells you how the account is setup.

POP3

To cleanup a POP3 account, use these steps:

From the accounts windows, double click the account name, then click the Account Settings button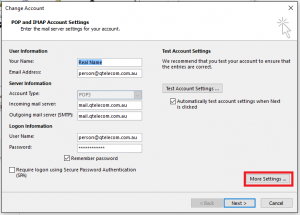 Then click the advanced tab, and either untick Leave a copy of messages on the server, or reduce the value for Remove from server after 14 days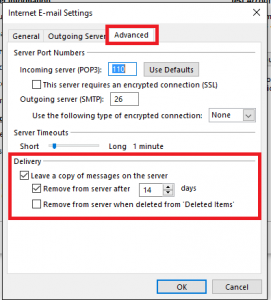 Then Click OK, Next and Finish. Make sure to click the Send/Receive button to get Outlook to process the mailbox with the updated settings.

IMAP

With IMAP, as it stores all mail on the server, consuming space, we need to treat it a little differently.

Firstly, check to see if there is anything in Deleted Items (or Trash), and if so empty it.

From this point you need to look at the email folders to see what mail is stored there, and if the email can be archived or deleted. Remember that deleting the messages means they are gone, and archiving means they will only be available on the computer where they have been saved locally.
Waterfront Customers
Welcome Waterfront Customers to QTelecom

We are pleased to announce that we have recently acquired the Waterfront mobile customer base and that as of the 29th February, 2016 we will be your Mobile Phone and Mobile Broadband Provider for your mobile service.

It has probably come as a bit of a surprise and the changeover has happened quickly but I can assure you that your best interests have been taken into consideration and that QTelecom was chosen as the best option to continue to provide you with solid and reliable services.

Waterfront was attracted to QTelecom for many reasons but the aforementioned was the most important PLUS you can retain your mobile number and are not required to make any changes to your service connections at all.

Who is QTelecom?
QTelecom is an independently owned and operated Australian telecommunications company that specialises in providing services nationally, both to households and to corporate markets. As a regional service provider, we understand that great customer service and network reliability is extremely important so we are happy to assure you that your connectivity and services will be fast, reliable and affordable. By way of background, we have been providing dependable, quality services to Australians & beyond since 2004, and we are thrilled to be able to provide the same level of customer satisfaction to you.

What Next?
The transition to QTelecom will be smooth and seamless – You are not required to make any changes at all to your Mobile services.

Waterfront services will remain the same as they are now except that QTelecom will be billing for the services in place of Waterfront. The invoices will look exactly the same with the exception of a new account number which will be listed on your new invoice from us.

New Plan Offerings
QTelecom has just introduced some great new Telstra plans that can give you more call allowance or greater data downloads if you'd like to move away from your current plans. We'll send you details in the coming weeks but in the meanwhile you can speak to our Customer Care team to find out more or to make the switch today.

A bit of Housekeeping
You will obviously now receive invoices from QTelecom. These will be emailed out to you on or around the 3rd of each month for the month in advance as they were before. You will receive one last invoice from Waterfront which would only be for call charges for February and nothing else as these are post-paid.

IMPORTANT – PLEASE NOTE – If you were paying your account via credit card we will need to have you sign a new direct debit form and send it back to us for our files. This form can be QT – DD Form – 2016.

The national office and general sales & support number will now be 1300 857 863. Please refer to our FAQ section on our website for more detailed updates and general information about the Waterfront change.

QTelecom is able to offer you additional products such as NBN Internet & Phone bundles, Mobile Broadband and ADSL2+ broadband.

We're a friendly bunch and will always do our best to assist you in any way we can so please feel free to contact us for any questions or help on 1300 857 863. You can also visit our website for dedicated Waterfront information or to just get online support, review our terms, plans and packages.

I personally welcome you to offer any suggestions you may have to enable QTelecom Internet to be the best it can be as your home phone and broadband provider. You can email me directly at opsman@qtelecom.com.au

Once again, welcome to QTelecom – we will take care of you!

Richard Monty
Group Operations Manager
Customer Care Update
As of today we've adjusted our Customer Care team to come direct to the team you deal with regularly. You will find that this team is better aligned to assist you easily and that you will speak with the same caring folks each time you call in. You may already be familiar with these folks from speaking with them about other matters such as Sales but now it is official.

This team operates from 09.00am to 5.00pm Monday to Friday AEDST.

All other points of contact at this stage will remain the same.

If you have any questions or queries about this change please do get back to us or call 1300 857 863 and select Option 3 for Customer Care.

With thanks,

Richard Monty
Group Operations Manager
Support Policy
QTelecom customers receive free technical support for most matters that relate to their Internet, Voice or Web Hosting Services.

Our technical support comes from our Sydney helpdesk team and is geared up to quickly resolve any technical issues you may have with the services we supply. With this our support hours are extensive and operate 7 days a week.

Support Hours are:

Technical Support & Faults
1300 857 863 Option # 2
Monday to Friday 8.00am – 10.00pm EST
Saturday & Sunday 9.00am – 5.00pm EST

Customer Care, Billing & Sales & Admin:
Monday to Friday 9.00am – 5.00pm EST
Saturday, Sunday & Public Holidays Closed

If at any time all support staff are busy assisting other customers we will ask you to leave a message where we can contact you when someone is free. A member of the support team will then call you back during normal business hours within 4 hours to help resolve your problems.

As always there is also our contact form for non-critical after hours support requests.

We try to resolve all non-emergency issues within 24 hours. Each email we receive generates a trouble ticket that allows us to track your issue until it is resolved.

If you need any further information please do not hesitate to get in touch with us.

Thank you

QT Customer Care Team
Need More Information?
If you are needing more information about plans or just need information on our services check out our plan Critical Information Summaries or our general Forms & Policies.

As always if you need more information or have any questions please call our Customer Care on 1300 857 863.